Playa del Carmen is a true golf destination with world renowned golf courses that even the pros luxuriate at. The courses range in difficulty, atmosphere, and price so there is a course for everyone. You really can't go wrong when it comes to choosing a golf course in the Riviera Maya, but these are our top 3 picks:
The Hard Rock Golf Club: 
Just a short club car ride from Casa Mimosa, is The Hard Rock Golf Club. Hard Rock Golf Club is notorious for being one of the most difficult courses in the area. The Hard Rock Golf Club is world renowned for being one of Robert Von Hagge's most acclaimed design accomplishments. The course is truly beautiful and challenging, and couldn't be more central to Playa Del Carmen.

Golf Club Iberostar Playa Paraiso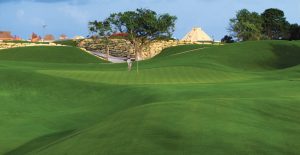 The course is encapsulated with lush vegetation, and authentic Mayan ruins. The Golf club at Iberostar Playa Paraiso feels so unique due to the elements that have been retained from the jungle, and how the course circumvents real ancient ruins. This course is moderately difficult but still playable for novices. With 18 holes, a driving range, and a club house, the Iberostar Golf Club is sure to leave you with lasting memories.
Golf Club El Camaleon Mayakoba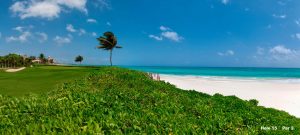 Golf club Iberostar Playa Paraiso is a 5 minuet drive from both Casa Mystique and Casa Mimosa. This beautiful course is ocean front so you know you're in the Caribbean. The course is host to The Mayakoba Golf Classic at Riviera Maya Cancun, an event that has been recently added to the official PGA Tour calendar. This is the first Mexican golf course to be added to the tour.